Description
We recommend Elegant Theme :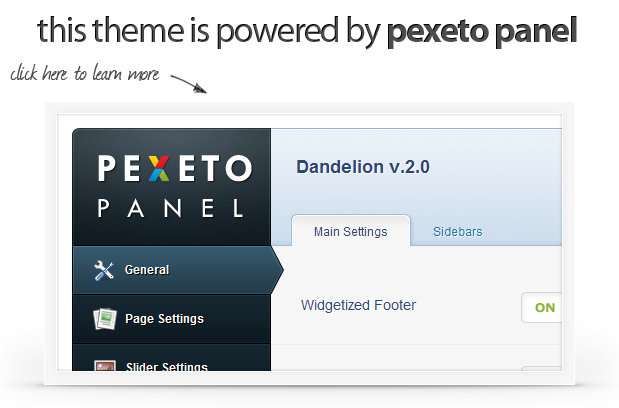 THEME DETAILS
Dandelion is a Powerful Premium WordPress Theme. This theme provides all the main functionality you will need to present your products, work and yourself in an elegant and professional style. The Dandelion theme is highly flexible, so changing the color scheme is super simple and for the most parts you won't need an image editor. The theme is best suited for any business, portfolio, photography and personal sites.
UNLIMITED SKINS
This theme allows you to build your own custom skin just by selecting your favorite colors from the admin panel with a color picker. Additionally, there are 32 custom patterns that you can choose between for the body. You can heck out the settings available in the admin panel here
POWERFUL ADMIN
Dandelion theme has very powerful admin settings included, so that it can satisfy all different needs without having to change any code. You can very easily change between page layouts, theme styles, sliders and set the theme content. You can have a look at the Admin Settings section on the demo, where some of the admin settings are displayed as screenshots.
4 JQUERY SLIDERS (UNLIMITED USAGE)
This theme includes not only a really cool Thumbnail Slider, which is great for the easy showcasing of a large number of images, but also a Nivo slider which allows for a wide variety transition effects and an Accordion slider which is very suitable for presenting more information. Also, in version 2.6.7 of the theme we have included a new Content slider which is great for presenting more content with the images. Images are easily added or removed, or the main slider settings changed, via the admin panel.
Additionally, you can use each of the sliders on different pages with different image sets.
3 FLEXIBLE PORTFOLIO GALLERIES (UNLIMITED NUMBER OF PAGES)
Dandelion has 3 impressive portfolio galleries – portfolio showcase which is great for presenting projects with more details; main gallery with pagination, category filter and lightbox preview and a gallery with item descriptions. All the galleries have been created with a great functionality, so that the content is very easy to change and maintain. You also have the option to choose between 2, 3 and 4 column layouts.
DOCUMENTATION INCLUDED
The theme comes with a detailed documentation, which includes examples, screenshots and all the main instructions you will need to customize your site.
Key Features
Unlimited skins
32 pattern backgrounds included
Powerful Admin

Easy to change theme style
Dynamic sidebar generation functionality
Possibility to build your custom skin with colorpicker
Flexible slider image management
Easy page layout changing
Flexible portfolio management
Easy theme translation
Easy logo replacement
Google Fonts support
Cufon Font Replacement
Styling buttons with preview functionality from the edit form
And there is much more…

4 Featured Unlimited jQuery image sliders

Unlimited slider usage – you can set different sets of images to different pages
Image Upload functionality included
Easy to sort, edit and delete existing images
Main slider settings can be changed from admin panel
Automatic image crop option

Portfolio Showcase Template
Portfolio Gallery template

Unlimited portfolio page number
2,3 and 4 column layout
Category filter (can be hidden)
Option to set item descriptions
Option to set different clicking action to each item – you can select between opening an image/video with lightbox, opening a custom link, opening item's main content or doing nothing
Option to set custom item order
Pagination enabled – you can set the number of items per page

Separate portfolio custom types
WordPress 3.0 Custom Menu Support
24 Shortcodes included
AJAX contact form with CAPTCHA functionality
Widgetized Footer – can be easily disabled
Comments with reply functionality
Multi level drop-down menu
Lost of styled elements included
Page Layouts

Right Sidebar
Left Sidebar
Full Width

Bonus widget included – portfolio posts loader
Detailed documentation included
PSD Files included
Works and looks similar in all major browsers: Internet Exlorer, Firefox, Opera, Safari, Google Chrome
Updates
Version 2.8.1 – 26th July 2013:
– Fixed a style issue with the dialogs in the admin on WordPress 3.6
– Other minor code improvements and modifications
Version 2.8.0 – 18 December 2012:
– Improvements for child theme support – the previous releases of the theme included child theme support for all the main styles and all the page templates. In this update we have also included child theme support for all the main functions used in the theme
– Translation : apart of the default Translation section that can be used for translating the built into the theme words, we have also included a .po file for those words that can be used for additional languages
– Added a services boxes shortcode for inserting more services boxes in different pages
– Added support for HTML tags in the sliders descriptions
– Added an option to select the way the thumbnails will be cropped (top, bottom, left, right, center) in the Portfolio Gallery and Portfolio Showcase page
– Updated Timthumb to the latest version
– Updated the instructions in the documentation regarding the latest WordPress 3.5 changes
– Included updated versions of the Twitter Widget Pro and WP-PageNavi plugins
– Code improvements and some small issue fixes
Version 2.7.0 – 04 July 2012:
– Implemented Google Fonts options
– Implemented an Automatic Theme Update functionality
– Fixed a pagination issue in the blog that was raised with the new WordPress 3.4
Version 2.6.8 – 27 March 2012:
-Embedded a CAPTCHA functionality (by using the reCAPTCHA service) in the contact form page for preventing spam emails from crawling robots
-Added a Lightbox Options section in the Options panel, so you can change the main lightbox styling and functionality options
-Included an upload favicon option in the Options panel
-Updated Timthumb to the latest version available: 2.8.10
-Updated the PrettyPhoto Lightbox plugin to the latest version available: 3.1.4
Version 2.6.7 – 22 October 2011:
-Added a new image slider – Content Slider
-Updated Timthumb to the latest version available (2.8.2)
-Fixed a small issue with the Portfolio Posts Loader – displaying "undefined" text below the image
-Added a beginners section in the documentation
-Did some other small improvements
Version 2.6.6 – 26 August 2011:
-Updated Timthumb to the latest version available (2.8)
-Implemented an update notification functionality
Version 2.6.5 – 3 August 2011:
– Updated Timthumb (the image resizing script) to the latest version (1.34) – a security vulnerability was found regarding this script and version 1.34 fixes this vulnerability.
Version 2.6.4 – 12 July 2011:
– Improved the Thumbnail Slider functionality when browser tab is minimized for jQuery 1.6
Version 2.6.3 – 09 June 2011:
– Fixed some incompatibilities that may occur in the next WordPress version (3.2) regarding the newly included jQuery 1.6
– Updated the Nivo slider to latest version – more sliding animations included
Version 2.6.2 – 19 May 2011:
-Added custom pattern field with upload functionality
-Added a new sidebar widget – Pexeto's posts loader (displays the latest blog posts within the sidebar with small thumbnails)
-Improved the Thumbnail slider initial loading
-Improved the contact form code
-Improved the Showcase functionality
-Some other small issues fixed
-Code improvements
Version 2.6 – 18 March 2011:
-Added IE9 support
-fixed some issues regarding timthumb and the upload functionality for WordPress Network (multisite) installations
-added Quick gallery support in showcase items
-code improvements
Version 2.5. – 25 February 2011:
-fixed some WordPress 3.1 incompatibilities
-updated some of the external libraries to the latest versions
Version 2.4. – 27 January 2011:
-unlimited sliders functionality added
-edit slider images functionality added
-save last edited location in Pexeto Panel functionality added
-Portfolio Posts Loader widget improvements
-added some other improvements
Version 2.3. – 16 December 2010:
-added formatting buttons to the content areas (quick presentation here)

-added upload functionality for the portfolio items
-fixed some small styling issues;
Version 2.2. – 03 December 2010:
-fixed an issue related with the slider descriptions
Version 2.1. – 30 November 2010:
-added WordPress quick gallery support, you can check it out here
-code improvements
Version 2.0. – 25 November 2010:
-implemented the new Pexeto Panel
Version 1.1. – 11 November 2010:
-added an auto image cropping functionality for all the sliders
-code improvements
Credits
Thanks for the great resources to:
Note: The images used on the demo site are for demonstration purposes only and are not included in the download file.
More…
Check out my other products:
Premium WordPress Themes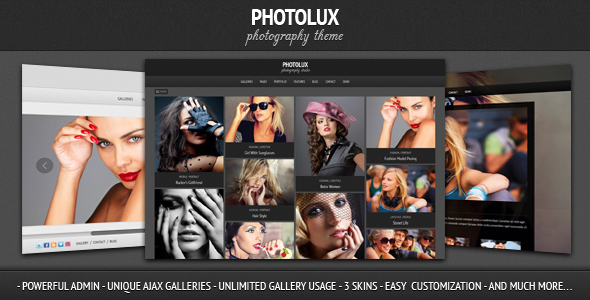 We recommend Elegant Theme :